7 Customer FAQs On Pre-Engineered Buildings (PEBs)
PEBs, or pre-engineered buildings made of prefabricated iron and steel, have been an emerging trend in the infrastructure industry. Today the PEB sector in India accounts for a significant $0.38 billion. Its growth rate of around 9.5% has surpassed that of China as PEBs are being accepted at a fast pace even outside traditional sectors.

                                       Image : A PEB Steel Structure
Be it housing or any other form of construction, projects built with pre-engineered steel have several advantages. However, while engineers and contractors are aware of the advantages, there are a lot of queries that need to be addressed from the consumer side. Let us look at some of the most common ones:
Can the longevity of PEB structures be trusted?
The life span of PEB structures is much higher in comparison to other building components. Steel has a high endurance capacity of 50-100 years. The chances of renovations and replacement are minimized when using prefabricated steel for construction frames. Prefab metal buildings are strongly integrated in terms of structure.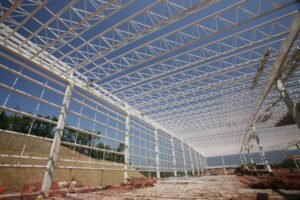 Image: Prefabricated Industrial Shed
Do PEBs pertain to a specific structure?
The chemical composition of steel makes it flexible in nature. This allows tailoring of the structural frames in accordance with the industrial standards and the desires of the consumer. This versatility of the steel body allows the steel bars to be bent or shaped as required.
Are there any compromises we have to make on quality?
Absolutely, not! In fact, if anything PEBs is the better option. Suitable for a variety of construction projects, eco-friendly, quick to erect, and high salvage value are some of the many advantages PEBs can offer. In most aspects, PEBs offer superior quality than brick and concrete.
Do PEBs require a high degree of maintenance?
Structures made of prefabricated metal components like steel have the ability to withstand extreme weather conditions. High quality galvanized steel increases the life cycle of the fabricated buildings. Galvanization helps protect against corrosion, preventing the buildings from rusting. Thus, the maintenance costs reduce to a minimum when it comes to pre-engineered buildings.
Are PEBs an expensive investment?
Customers have the impression that pre-engineered, stainless steel buildings are on the costlier side. Contrary to this belief, PEBs actually offer better value for money due to their fast construction, durability and high salvage value. This is the reason savvy commercial builders and companies prefer to invest in PEBs
Are PEBs ideal only in the manufacturing industry?
A diverse range of construction uses prefabricated steel, buildings being just one of them. From hospitals to factory sheds many non-residential buildings have long used prefabricated steel for efficiency. Today commercial, as well as residential builders, are approaching PEB construction companies for 'ready-to-make' buildings as digital technologies make it possible to precisely prefabricate structures to the last detail at low cost. This makes pre-engineered galvanized iron and steel components ideal for all sorts of building structures.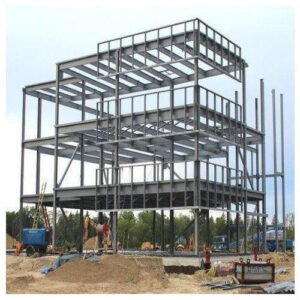 Image: Pre-engineered Residential Building Under Construction
PEBs over concrete?
While the final choice lies in the hands of the consumers, PEB components have been reported to have excess benefits. Conventional concrete buildings have their own pros and cons but, be it in terms of cost, maintenance or renovations, PEBs score a notch higher.
The PEB construction market has been estimated to reach $37,807.3 million by 2026, growing at a CAGR of 14.5% from 2019 to 2026. Pinax Steel has established itself as one of the leading manufacturing units in the country, providing high quality PEB services across the nation. Wherever you are, if you are looking for efficiently delivered PEBs, get in touch.