Cable Trays: An Effective Wire Management Solution
Let's rewind our lives. On a good day somewhere in 2010, you are travelling in a vehicle. You just started looking for your earphones to enjoy a film, song or movie at peace. But wait, your earphones are tangled.
Knock knock. Back to reality. The untangling part spoiled it all, right?
When it comes to wires, effective management creates a difference. They can be tangled to the extent that when needed, you are unable to untangle them. 
While untangling earphone wires remain a headache, cable trays have given the world a simple solution to electrical wire management. In this blog, we will give you an inside picture of why cable trays have emerged as a preferred choice for trouble-free wire management.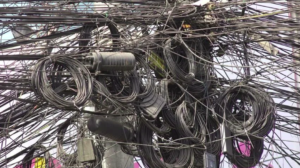 The advantages of cable trays
There are numerous advantages of cable trays. If you want a detailed insight, you can visit our previous blog that covers the advantages in detail: To summarize, they are:
Systematic wire arrangement

Variety of sizes 

Choice of material based on strength and purpose

Different types for different setups

Simple installation

Ease of access and maintenance

Lower pricing

Safety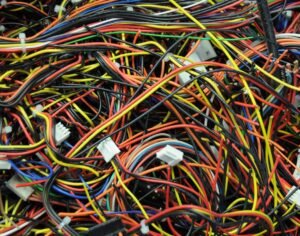 Cable trays for a sustainable wiring system
Cable tray manufacturers have only made the road to wire management easier for customers. They have capitalized primarily upon two things:
Global safety mandates



In today's world of skyscrapers, large industrial units, and congested urban populations, safety has become the need of the hour. A small negligence can cause major accidents and fatalities. The risks of faulty wiring have risen manifold.





Owing to this, various governments across the globe have chalked out certain mandates for both residential and industrial projects.

Cable tray manufacturers

have responded by establishing their product as the safest mode of cable management before the authorities compared to electrical pipes or conduits.
2. Eco-friendly and non-hazardous alternative

69% of the 50,000 fires in Mumbai between 2008 to 2018 were due to a faulty wire system. Over 40% of fire accidents in buildings are a result of electrical issues in India. Such data points to a bigger picture.

While cable trays have made wiring safer, it is not only the hazard aspects that need to be considered. There is also the environmental aspect. With electrical pipes, debris has always been a major problem. Not only does it affect the environment at all levels but it also adds to costs as even a minor change in wiring can invite disproportionate expenses. This often leads to the eyesore of open tangled wires, particularly in older buildings.

Steel and aluminium cable trays allow recycling and are eco-friendly. Plus, they are handy in terms of customizations, after-construction changes and maintenance.
No wonder the real estate promoters have opted for cable trays. Malls, railway stations, subways, factories, power plants, cafes, hotels, stadiums, auditoriums. banks… cable trays are everywhere. You just have to look.
The future
It has been close to eight decades since cable trays first came into existence. The journey has definitely been extraordinary. With time, the types of cable trays expanded alongside constant addition to the manufacturing material. Today, cable trays are not just made of metals but also fibre reinforced plastic (FRP) which is strong, light and corrosion-resistant. This has indeed proven to be a boon.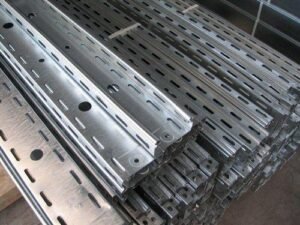 According to studies, the once USD 2.75 billion (2018) valued cable tray market size is projected to reach USD 5.46 billion by 2026. This signals a CAGR of 9.06% between 2019-2026. The countries behind this growth will be North America, Europe, Asia Pacific, the Middle East and Africa. The Asia Pacific is expected to lead the demand owing to rapid urbanization and industrialization. 
About Pinax Steel
Pinax Steel has been a name to reckon with when it comes to steel products in India. With end-to-end cable tray solutions from a fully automated 10,00,000 sq ft manufacturing unit, we bring customized, high-quality and durable cable trays for you. 
Pinax excels in manufacturing cable trays in various shapes and sizes as under:
Ladder-type cable trays

Raceway ducts

Perforated cable trays

Bolted cable tray
And we are not done here. We also provide several options when it comes to finishes:
Powder-coated

Hot-dip galvanized

Painted

Pre-galvanized

FRP cable tray