Industrial Sheds – Pre Engineered For Building Efficiency
Consumerism has led to the rapid diversification of industries and product lines. The variety and scale of industrial and warehousing setups have increased manifold giving rise to the requirement of more and more space for businesses and industries. While reinforced cement concrete (RCC) structures have long been the standard, a sea change is being witnessed globally with the arrival of PEBs (pre-engineered buildings). These have been a boon due to their 'smart' application advantage that enables the owners to get them made as they like and erected in quick time. Prefabricated factory shed, office or warehouse, it simply works like a magic wand — you have your structure for whichever purpose you want.
What are industrial sheds
Industrial sheds are a type of pre-engineered buildings. As the name indicates, pre-engineered buildings are prefabricated buildings made up of steel (preferably galvanized). These buildings are fabricated in manufacturing plants and never on-site, unlike cement and concrete buildings. There's only one thing done on-site — erection. The parts are bolted and welded (very rarely); this erection process takes a matter of weeks at most. Thus, they are a fast option for those who want to start off operations quickly. In short, for everyone. But, is it just the quick construction that makes it a preference over cement buildings for industrialists and businessmen? As hard as it may be to believe — NO. Industrial sheds are much ahead of their counterparts on several aspects and quite like a magician's hat — full of surprises.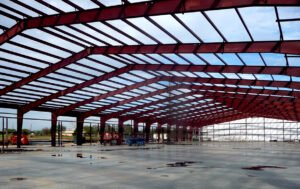 Growth of industrial sheds
Make a quick guess how old industrial sheds are? 40 years, 50 years? Rewinding to the past, you'd be amazed to know that industrial sheds first came into existence more than a hundred years ago in 1909. It was destiny's call that Ford's Model T and the Butler brothers found each other in the USA. The brothers were famous for making agricultural sheds. With Ford's Model T, the car owners needed car pods. Butler brothers came up as the PEB shed manufacturer with their novel steel fabrication and hence began the story. As time passed, metal fabrications gained widespread acceptance. It was during the Second World War that they found further application in warzones as plane hangars and Quonset huts. Since then, industrial sheds have never looked back. In fact, they have embraced modifications in style, appearance and adaptability.
Although PEBs were introduced in India decades ago, it is only in recent times that they have really caught on. Currently, it is the fastest-growing market and it is estimated that one-third of total construction today is based on PEBs. In November 2012 headlines were made when a 10-storey structure came up in 48 hours in Mohali, Chandigarh. The changes brought about by the Covid-19 pandemic further popularized PEBs as speed has become a priority.  Kasturba Hospital in Mumbai was the first to finalize the construction of a PEB ward for Covid patients only. Many others followed.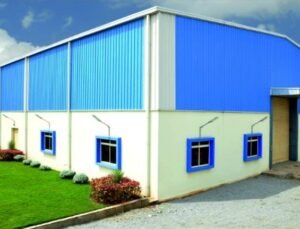 Types of Prefabricated Buildings
It is important to throw light upon which industrial sheds are apt for each industry type. Let's have a look at some major types.
1.Heavy industry buildings
From large machines and furnaces to large storehouses, these buildings are demanding based on the array of equipment and processes involved like cement factories, automobile manufacturing units, etc. Also, there's a lot of wiring, heat, machinery and other technical aspects involved. With industrial sheds customized to suit demands including physical aspects, coatings to prevent corrosion, heat resistance, water resistance, etc. may be necessary.
2.Warehouses
These are generally very large and located outside cities due to the loading-unloading processes by large trucks. They are sometimes situated near airports as well. As a storehouse for goods of all types, it's important that the building is strongly layered and away from external weather influences like rain. Pre-engineered warehouses aren't just quicker to construct but a better alternative, given the extra space due to the lack of pillars in between. There are warehouse shade manufacturers specifically for warehouses too in the market for industrial sheds apart from the ones who make it all.
3.Cold storage buildings
For developing countries and especially the ones with challenging weather conditions like India, cold storage is a vital requirement. We are great with our production but lag behind in terms of cold storage amenities, which hinders the overall industry's progress as well as wastage of goods like meat, food grains, pharmaceuticals, etc. Being able to customize cold storage units with the right design, including the roofing and coating, gives the advantage of building an efficient center. Also, pre-treated sheds for insulation against heat (and also cold) reduce energy expenses.

4.Light manufacturing buildings
Food processing units and light-electricity items are manufactured under this category. There's light machinery instead of heavy ones and hence less space is occupied. The use of industrial sheds enables easier expansion and modification of the structure from within when the business scales up. Thus, the customization is at the owner's disposal at friendly costs.
5.R&D centers
R&D has become the heart of every business today. R&D units include a lot of amenities at the property. Also, there's a controlled environment needed inside too. Since in some sectors R&D operations run 24×7, many R&D centers house residential sections too for the researchers and other staff apart from other amenities like labs, testing centers, meeting rooms, etc. Industrial sheds for R&D are designed keeping ventilation as well as air-tight zone requirements in mind.

6.Flex buildings
A new concept in trend, this type of industrial shed captures a little bit of everything from the categories above in the form of a building. It can host all sorts of spaces – light machinery, office, showroom, residential, etc. In developed countries, new start-ups are opting for these because of easier customization access, bigger space and cheaper rents. This has been an innovation in the west lately and is expected to enter the developing nations soon.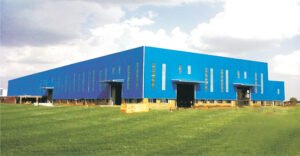 Why choose industrial sheds
Industrial sheds have long been a boon for industry owners due to their speed of fabrication. Industrial shed manufacturers have also ensured optimum propagation of their 'customization' feature to win preference in the industrial arena. Today, their use has gone beyond industrial sheds to cover a variety of structural needs. The advantages of industrial sheds have been discussed in our previous blog. Some key benefits are:
COST: Industry sheds are cheaper than traditional structures, and can be accurately estimated. Besides, they need little maintenance and can be easily dismantled and reused. 
SPEED: They are manufactured away from the site, and only bolting is required. This can reduce construction time by half or more compared to RCC buildings.
COMFORT: Industrial shed manufacturers can treat the sheds right during the manufacturing process for insulation saving energy costs on insulation for life.
SPACE: Pre-engineered buildings have longer spans as their weight distribution is better than RCC structures. This yields more usable floor area.
PRECISION: In traditional construction, the blueprint and reality can vary due to local conditions and terrain. Pre-engineered structures are precisely engineered with computer-aided systems.                                                                                                                                                             
Choosing a vendor

Look around and you'll find pre-engineered buildings in the form of jute mills, godowns, small production units, automobile workshops, etc. The best thing about PEBs is the 'fit for all' character. A businessman with a small-scale manufacturing unit can opt for it too and not just giants like IOCL, BSF, L&T, etc. Medium-scale industries In India are also opting for PEB as are most new warehouses and manufacturing facilities. 
The numbers of industrial shed manufacturers are also going up. While the big players opt for major brands through national tenders, small and medium-scale business owners are supported by niche regional industrial shed manufacturers. In fact, now we also have an open choice from a list of godown shed manufacturers and warehouse shed manufacturers In India. Thus, it helps combined growth for both manufacturers and business owners.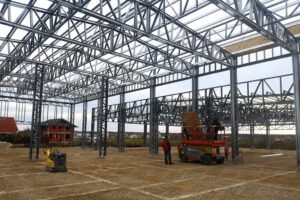 Finalizing a PEB project
While its many advantages make prefabricated sheds attractive there are certain things that you, as an industry owner, should keep in mind before finalizing your requirements with a vendor.
1.Soil testing
Industrial sheds can span almost every type of geography. For best results, soil testing is essential so that the shed manufacturers can proceed accordingly.

2.Standards
Many companies make industrial sheds. In developing countries the trend is nascent and capability is hard to judge. Thus, it is important to go with industrial shed manufacturers who have proper knowledge of the standards of the region. Steel quality and specifications should be kept an eye on while choosing your vendor.

3.Knowing the purpose
The vendor should know your requirements inside out. Whether it is a cement plant or medicine manufacturing unit or just a godown, your vendor should be aware of it all with details of the type of equipment, the electricity load involved, the chemicals that the structure would be exposed to in the future, etc. as the fabrication will be done accordingly. Any lack of details and the experience can be costly.

4.Approval from authorities
Industrial sheds are quick in terms of manufacturing and construction. Although they are customizable, you should have all the necessary paperwork done to keep trouble with authorities at bay. Sheds will hardly take a few weeks at most to construct. Hence, the necessary approvals and permissions should be obtained beforehand.

The future of PEBs in Construction
Industrial sheds are on a roll. They were mainly a product of developed western nations but have now made inroads to developing nations too. In fact, from being importers, many nations are now having their own PEB manufacturing facilities and specialized manufacturers for various types of industrial sheds. Major players from various industries in these nations are diving into pre-engineered building manufacturing. The quest for excellence has led them to collaborate with major foreign veterans of the game. This indeed will help boost the quality and standard of industrial sheds as local players get access to modern know-how.

The demand for prefabricated buildings is now starting to bestride the public and private sector alike. In urban life, they can be found as metro stations, stadiums, exhibition halls, etc. Pre-engineered building manufacturers are seeing a great surge in demand which comes mainly from industrial requirements. No wonder their market is projected to grow up to USD 25 billion by 2024 from USD 14.5 billion in 2019 at a CAGR of 11.5% despite the pandemic. This only indicates the promising future of industrial sheds owing to their multifold benefits over RCCs.
The major growth of PEBs has been seen in India and China recently with India leading the race as the fastest growing market in the PEB construction segment at 9.5%, ahead of China at 8.5%. With a large population and the 'Make in India' initiative of the current government, the growth is expected to sustain. Brands like Apple, Samsung, Alstom SA, Von Wellx, etc. have already started operations under the initiative with the aim of marking their footprint and gaining recognition in new nations. As a backlash of Covid-19 and socio-political factors, many brands are also shifting their facilities from China to India. With quick expansion strategies, the clock is already ticking. Under such conditions, industrial sheds are a preferred choice due to their speed, durability and cost benefits. The sudden push and entrance of multinational brands are anticipated to act as a booster due to the increase in demand for industrial sheds.

Industrial sheds are a phenomenon now globally. They promise not just the right return on investment in terms of durability and costs but also shield owners and companies from hefty maintenance charges and long project timelines. In fact, the public and the private sector are looking up to it for new plants and projects with equal enthusiasm. The awareness has improved amidst preference for RCCs as a prevailing notion but, the versatile efficiency of industrial sheds, when reaching the right people (as it's happening now) will lead to the growth of the sector in near future.