Is your roof tough enough to take some extra heat?
Well, that's perhaps the one question you should ask before deciding on an eco-friendly and sustainable source of energy. Don't get me wrong, there is no denying that and that only is the right thing to do but first fix that roof (you don't want the roof giving way before the solar panels do) and pick the right solar mounting structure/system.
Just in case you are wondering 'What is a solar mounting structure?', it is the framework aka backbone of any solar panel. It literally props or holds the solar panels in place.
These are usually made of 3 types of materials:
a) Hot-dip Galvanized Iron
b) Aluminum
c) Mild Steel (MS) 
And if you are checking out solar mounting panels you are possibly looking for a solution that:
Traps all the sunshine possible.

Looks aesthetic enough not to spoil the look of your house.

Is easy to implement. 
Solar mounting structures can be broadly categorized into roof mount, ground mount, profile mount, pole mount and elevated solar mounts. Each one has its pros and cons. And each one must be tackled differently and designed differently to make it more efficient.
A guide to picking the right solar mount structure.
1. Roof mount: This is by far the most popular and it is not surprising. Roof is the one place you get maximum sunlight and mounts on it don't get in the way. But keep in mind that there are other things to consider like storms and heavy rains. You want your solar mounts to be able to handle severe battering for 20+ years at the very least.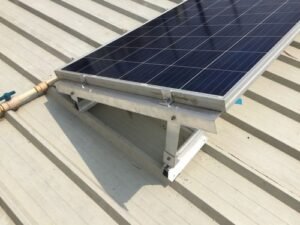 Pic 1- aluminum structure  solar panel mounted
2. Ground mount: Be it a flat ground or flat terrace, ground mounts can be set up on any flat surface. There are various things in its favors. Namely, easy cleaning and maintenance.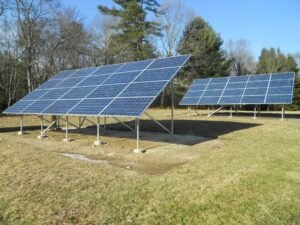 Pic 2- Solar Mount Structure
3. Profile mount: If it's an industrial or commercial purpose, pole/profile mounts are perfect. They can be fixed at a slight incline which helps trap more sunlight.
4. Pole mount: Maximizing exposure to sunlight is a great plus for these. All it takes is a steel pole and a concrete anchor to prop it up. No complicated foundation is required. The only drawback is that if the soil is not very good then they might not hold in case of extreme winds and rain. Pole mounts also require ground space which is why you will find these in commercial, agricultural and large private properties.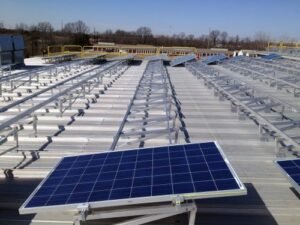 Pic 3- Pole  Mount Structure
5. Elevated mount: As the name suggests, these mounts elevate things! Imagine a scenario where you can actually walk under a solar panel system or park a car. They allow solar panels to be fixed at a distance from the surface it is fixed to; be it a rooftop or a garden. It doubles up as a roof and minimizes loss due to shading. You need to be particularly careful while fixing it on the roof or it might cause structural damage to the property. You don't want to get caught in the rain under your roof do you?
Pic 4 – Elevated  Mount Structure
While these are not an exhaustive list of solutions these are the key ones most steel manufacturers in India are offering.
Before you buy, ask the essential checklist of questions.

Let us help you with a few basic questions to be asked before choosing your solar mounting structure.
Is my roof strong enough to take an extra load of 10-20 kg (on an average) for the next 20+ years?

What is the key direction the solar panels should face?

Are trees and other buildings around my property creating large shadows on the roof/garden where the solar panel is likely to be placed?

Is there a site manager I can consult?

Is my area prone to heavy rains, winds or snow that might damage the system?

Is there an expert solar developer I can reach out to?

Is developer empaneled by the state utility company (DISCOM).

Which is better; a grid-tied connection with net metering, or an independent solar plant with rechargeable battery storage?

Is there any state subsidy for installing a solar system?

 Is my solar system under a warranty? (Checkout repair and replacement policy)

 Is there an insurance policy that can cover damage done to electrical and mechanical equipment during the installation?

 Do solar systems and panels have any resale value?
Proactive initiative by the GoI.
Recognizing the need for green energy, the Government of India launched the National Solar Mission (NSM) just over a decade back. And while India is warming up to the idea, there is a long way to go. To ensure more adopt ways to tap sustainable energy, the Government offers Central Financial Assistance (CFA) to the Residential sector.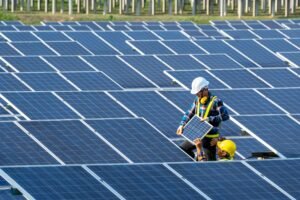 Pic 5 – Solar Panel
Today, solar energy is one of the fastest growing industries in India (grown 33 times over in the last 10 years) and Pinax, a leading manufacturer of solar mounting systems, is showing the way ahead with its range of solar mounting systems and more.