No 1 PEB Company in India
In many types of construction speed and economy is a prime requisite, particularly in developing countries. In recent years, steel building manufacturers have sought to meet this need with  pre-engineered-building-manufacturers or PEBs. Easy to put together, maintenance-free and durable, they were initially used for simple industrial structures but have now expanded to high-rise buildings, showrooms, stadiums, parking lots, etc.  And new applications are being regularly added. 
It started in America
PEBs trace their origin back to the early 20th century when Ford's Model T was launched. People needed a shade for their car and hence came the structure by Butler Brothers (USA). Corrugated metal sheets were arched over frames to give it the carport structure. This laid the foundation stone for PEBs. Improvements and enhanced applications continued to happen as Americans continued to use it for agricultural and industrial applications. It was the World War when airplane hangars became common and it became accepted that "PEBs are in for a long game."
India: The mindset change
As a country, India is seen as one of the global powerhouses of the future with its large, growing and youthful population, and massive infrastructural plans. Furthermore, the 'Make in India' push also promises to step up manufacturing construction. However, there remains a preference for concrete structures as the advantages of PEBs, such as quake, fire and termite resistance, are yet to percolate. On the bright side the focus on building infrastructure in remote areas is making PEBs more effective due to logistical, labor and cost savings. Even in developed areas, the speed and flexibility PEBs offer is being recognized. As the mindset changes, demand for PEBs is bound to follow. 
Accelerating Popularity 
According to Mr B.V. Rao, Executive Director, Pennar Engineered Building Systems "Current market size is around Rs.3,500 Crore and is expected to grow at 10% to 15% yearly". This signifies sales are likely to double up in the next 5 years. The biggest challenge we face is the fact that access to expertise is limited making progress slow.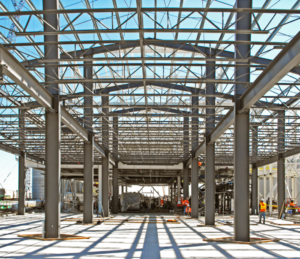 However, the silver lining here is that major names are building expertise through technical associations and joint ventures with eminent international players. Reliance Industries have tied up with Mammut Group, while JSW Building Systems have joined hands with Sever field Reeve Structures of UK. This has paved the way for acceptance of PEBs based on conviction and familiarity with established brands. On the demand side, international companies setting up in India are opting for PEBs to jump start their manufacturing facilities. For instance, Renault Nissan's Award winning manufacturing facility by Kirby India in Chennai is the world's single largest PEB building spread over 300,000 sq m involving more than 20,000 MT of steel.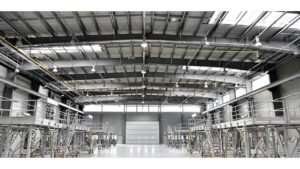 Also,  Mr. Anil Kumar Sharma, Sr. VP Marketing, Era Buildsys Limited (EBSL) opines "If the industry of pre-engineered steel buildings continues to grow at the current 33% growth rate in India, then in a short span of 7-8 years India will be among the top 10 countries supplying steel building to the world. India is also the fastest growing market in the PEB construction segment at 9.5% quite ahead of China with a growth rate of 8.5%."
A Bright Future 
It is evident that the future of pre-engineered-building-manufacturers  is positive.  Fortunately the accumulating expertise in the field should help ensure that PEBs are made to suit site conditions such as seismic zone and weather. The steel building manufacturers in India appear poised for a bright future. Though the preference for concrete structures still exists, India's industrial needs are growing leaps and bounds and so is the awareness regarding the advantages of PEBs. Already popular in remote sites, PEBs are finding entry into the urban lifespace too. Be it temporary offices of real estate sites or stadiums, mezzanine floors in stores or even railway stations, people are getting accustomed to PEB which is necessary to familiarize them.