What Makes Cable Tray Systems Popular?
Wiring systems met convenience when our civilization discovered cable trays. No, that's not an overstatement as anyone who has suffered from tangled wires will know. Be it preventing the spread of fire or an effective and organized wire management system, industries are turning towards cable trays for their setups in swarms. In this blog, we'll trace the multiple reasons behind the growing demand for cable tray wiring systems.
Contents:
1.Varieties are here
2.The Versatility
3.Major Markets
4.The future
Varieties are here
Cable tray manufacturers have understood the market and its future. Be it with cable tray sizes or types, there is a variety available to perfectly cater the clients' needs. Let's have a look at the types of cable trays:
Ladder cable tray
With rungs running between two side rails at regular intervals, these command 80% of the cable tray market share. Since they are accessible from top and bottom, they prevent moisture accumulation and keep wires cool.
Perforated cable tray


While ladder cable trays are well ventilated, heavy wires need something stronger. Perforated solid trays, instead of rungs, are the answer. The perforations allow ventilation allowing the heat to be radiated out. Moisture accumulation is also kept at bay.

Solid-bottom cable tray


Trays without perforations are called solid-bottom cable trays. These shield the cables from interference by electromagnetic and radio waves to maintain unobstructed transmission.

Wire mesh cable tray


For short-route wires and lighter ones with low voltage, wire mesh cable trays are used. They look like a mesh owing to their welding.

Channel cable tray


These are used when there are few cables or a branch cable runs from the system's main column.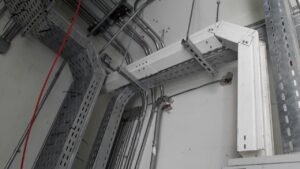 The Versatility
Any professional cable tray manufacturer will deal with cable trays of three material variants — stainless steel, steel and aluminium. This, alongside the option for galvanized varants, opens routes for versatility. Based on the purpose and location, one can choose the material needed as well as the type. Moreover, cable trays can be customized for short and long spans — single stretch or with bends and elbows. The manufacturers these days also coat cable trays with fireproof chemicals, adding to their safety. The fire rating should be considered to decide the right option. However, despite fireproof coating, it is advisable to avoid fiberglass as it catches fire more easily than metal. It is not just the choice and customizations which make cable trays a preferred option. They are also quicker to install and easier to arrange. Plus, the wiring system is more accessible and open to changes. Finally, modern day offices and industrial setups are switching to cable trays also because they save up to 24% energy.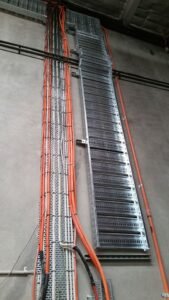 Major Markets
Another trend has given a fillip to the demand for cable trays. Previously, for industrial structures the norm was concrete buildings but now it is pre-engineered buildings. Correspondingly, the old conduit system of wiring is being replaced by cable trays. This wiring system is very precise in terms of calculations and measurements. Thus, the costs and estimates are precise. If we see region wise, Transparency Market Research estimates that by 2026, North America will be leading the global cable trays market as it has the largest construction industry. Europe and Asia Pacific stand as other prominent regions. Rapid infrastructural development in private and public sectors and boosted construction activity in developing countries is opening up new markets. The recent shift of industries from China to India due to the pandemic has led to a further uptick in demand for cable trays in the Indian subcontinent.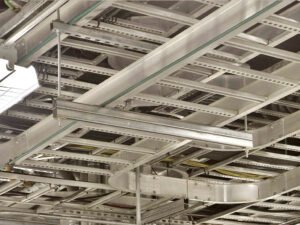 The Future
The commercial segment which dominated the cable trays market share till 2018 will continue till 2023 estimates Reportlinker.com. The increasing adoption of automation and communication technologies and investments in data centers are some key drivers today. However, the focus on wireless communications, and fluctuating raw material prices, may retard the growth of the cable tray industry in future. Currently there are very few industrial machineries that are wireless, and most require detailed connection arrangements (including automated robots). In the fast expanding telecom sector which is now stepping into 5G, the station systems will rely heavily on cable tray systems. These factors will be influential in the expansion of the cable tray business, which is currently growing at a CAGR of 9%. The future for cable trays seems poised to shine brighter.