High ROI on Prefabricated Warehouses – Myth or Truth?
Remember those paint ads on television with two neighbours and their houses? One of them, of course, had the better house because of the paint while the other had a dull, unappealing look. Something similar happens when we compare prefabricated/pre-engineered and concrete (RCC) warehouses in terms of return on investment (ROI).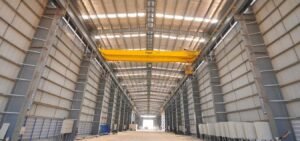 Difference between RCC and prefabricated warehouses
The main physical difference between RCC and prefabricated warehouses is building material. RCC is made of cement and a mix of other materials. A prefabricated warehouse is usually made of one sole material — steel. This leads to a number of other differences that impact construction, application and durability. Prefabricated warehouse leads the race with many advantages to its credit such as:
Quicker construction time

Recyclability

High resale value

Relocation benefits

Customizability

Versatility

Eco-friendliness 
You can have a detailed insight into the differences in one of our previous blogs. Let's move on to the next section.
How prefabricated warehouses bring ROI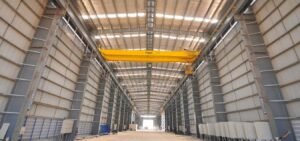 Prefabricated warehouse is quickly gaining preference across sectors. However, many are still sceptical about ROI on prefabricated structures as steel sounds more expensive than concrete. Let's examine this in some detail.
Return on time


While concrete buildings, warehouses, stadiums take months and even years to come to life from blueprints,

prefabricated warehouse manufacturers

can deliver a finished project with 30-40% quicker turnaround time. A truly urgent project can, in fact, be erected within a matter of weeks, that too without much trouble. Time, as we know, is money.

Return on manpower


Prefabricated warehouse construction requires lesser manpower compared to traditional buildings. This means there are fewer onsite issues relating to labour availability, accommodation, welfare, etc. Thus, it is a bonus when it comes to financial savings.

Return on architectural changes


Most businesses postpone infrastructure expansion on the same site fearing losses due to a halt in normal working. With quick construction and easy add-ons,

prefabricated warehouse manufacturers

promise a short time span thereby facilitating the easier transition.

Return on sustainability


Prefabricated warehouses are green buildings. There is zero debris before and after construction and easier dismantling. A warehouse can even be shifted from one site to another without material loss. Besides, steel itself is up to 100% recyclable.

Return on customizations


Prefabricated warehouse manufacturers

have caught the pulse of the market. With endless customizations in terms of shape, size, coating, etc., they bring tailormade structures to life. All sorts of product warehouses can be made, and a true professional

prefabricated warehouse manufacturer

will ensure that you get exactly what you want.

Return on energy efficiency


Warehouses sometimes need a lot of investment in terms of energy management, say heat insulation for instance. Prefabricated warehouses can be customized to reduce dependence on artificial heating or cooling for long term energy savings.

Return on calamity resistance


Compared to concrete structures, prefabricated warehouses are more calamity resistant. They are engineered to withstand forces such as earthquakes, excessive rain, or fire based on the region and risk.

Return on space


A prefabricated warehouse being a pre-engineered building has larger spans with zero dependence on columns. Thus, there is more usable space within a given area.

Return on reconstruction


Prefabricated warehouses can be dismantled and easily relocated.

Prefabricated warehouse costs

are one-time. You can relocate your unit by dismantling it and erecting it on the new site.
When we add up the, it is inarguable that the ROI on prefabricated warehouses is manifold compared to traditional warehouses, and tends to rise over time.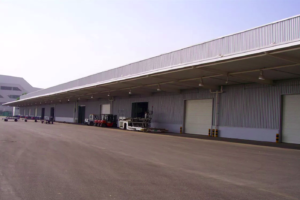 The future of prefabricated warehouses
After a setback due to the pandemic, many sectors have recovered well beyond expectations. The stepped-up industrial activity has been reflected in the rebounding demand for pre-engineered buildings. Their market is currently expected to grow at a CAGR of 8.5% during 2021-2026 as the industry is quickly adapting and normalizing PEBs. In fact, estimates suggest that 70% of all new commercial buildings in the US are pre-engineered. The market for pre-engineered buildings is projected to reach $34 billion by 2028. 
Pinax Steel creates quality prefabricated warehouses for all sectors. We handle clients from both government and private sectors to design, manufacture and erect warehouses. With an experience of over 20 years in the steel industry, we know how to deliver customized quality to our customers without waste or delay. Contact us now to find out more