Prefabricated Airports Buildings – A Promising Future
Prefabricated structures are becoming quite commonplace due to their speed, flexibility and long term economy. While the overall market is expected to grow at a CAGR of 8.5%, certain sectors are growing at a much faster rate. Airports are one of them.
Government focus on airports 
Despite the dip caused by Covid 19 restrictions, air travel has grown by leaps and bounds in recent years. However, as things began to improve, domestic travel traffic is expected to rebound, crossing the numbers recorded in 2019.
The current government has been focusing on expanding and upgrading airports across the country. Runways, terminals, hangars and administrative buildings are being refurbished. This is not just for the metropolitan cities but also small airports.  Main areas of expansion
The runways of more than seven airports are being expanded including Jammu and Kashmir to improve the flight handling capacity.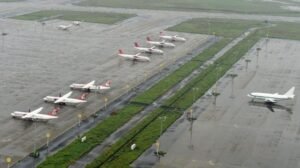 Runways being expanded
Airport hangars are one of the major requirements as the number of aircraft increases. Metal aircraft hangars assure the scope of expansion as and when possible due to their flexible nature.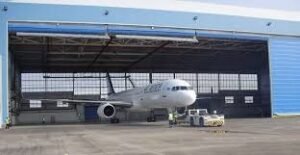 Metal Aircraft Hanagar
In addition to the renovation of the existing airports, AAI is also focusing on constructing newer ones. Places like Punjab, Kerala, Pune, Goa have already begun construction. Solar power for green buildings and prefabricated structures are key features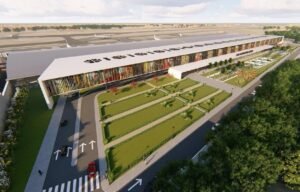 New terminal building at the Pune Airport
Pre-engineered airport structures
It is mainly the development of the terminal buildings and offices where prefabricated buildings find most application. Following are some of the prefabricated structure projects under the AAI: 
The Airport Authority of India (AAI) has developed a domestic terminal made out of prefabricated steel in the Sonbhadra district of Uttar Pradesh being one. 

For the development of BCAS and CISF offices at the Goa Airport, the government has procured a tender for prefabricated buildings in Dabolim, Goa. 

Prefabricated structures for the Interim building at the Uttarlai Aiport, Rajasthan. 
Advantages of prefabricated buildings? 
Cost-effective and time-saving
Budget-friendly and a quick form of construction, pre-engineered buildings for the construction of airports have gained preference for meeting time schedules and preventing cost overruns. 
Lower renovation costs 
The construction and maintenance requirements at airports are high. It is important to ensure that the maximum benefits can be availed at minimum costs. Pre-engineered steel structures are easy to maintain
Customization
Structural designs for each airport are different and unique. They also demand certain flexibility due to the changing customer and cargo profiles. Compared to concrete construction, pre-engineered metal structures are far more amenable to customization.
Flexibility
Airports are not only huge but must be built for growth. The expansion requirements can be easily met as prefabricated buildings as covered areas can be easily expanded or remodeled. Due to the prefab nature, dismantling and reassembling the structural components becomes convenient. Concrete buildings have to be demolished and rebuilt. 
Why steel for prefabricated buildings? 
Metals such as steel or aluminum are the preferred material for the construction of prefabricated buildings. Steel is most commonly used. This is not only because of the above benefits of prefabricated structures but also the fact that steel is 100% recyclable. 
Pinax Steel – Ideal for all types of construction
A component ideal for the construction of prefabricated structures. From the development of hangars and terminal buildings procure the best pre-engineered building with us. Readily available, durable, within your budget, tailored according to your construction requirements. Specializing in the construction of pre-engineered buildings procuring quality steel with Pinax Group. A modern and one of the most effective solutions for all your projects.